Donal Kerry – International Spokesperson of the Movement for Justice for Dr. Geréb, Hungary
Dr. Ágnes Geréb has been grounded since December 21st, 2010. Before this ocassion she was confined from October 5th, 2010 until December 21st, 2010 and was then transferred to long-lasting and indeterminate house arrest. All of this started on the evening of October 5th, 2010 when she came to rescue of a mother experiencing an accelerated labor. This and other labor accidents have since been joint and Dr. Geréb was accused with professional negligence in these issues. These occasions were reviewed in court from December, 6th 2012.
In addition to this, on 10 February, 2012, Dr Geréb was passed sentence to 2 years imprisonment/10 year work suspension for professional negligence having relation to two home labor fatalities from 2006 and 2007. Dr. Geréb evaded immense imprisonment as she sought mercy from the Hungarian President. President Áder claimed on 8th October about his intention to wait for trial final starting in December, 6th before making final decision on the 2 year prison mercy requirement.
How can this criminalisation apply to Dr. Geréb who has registered over 3,500 healthy home labors with only 3 fatalities in 17 years, when hospital doctors evade criminalisation even though they have been included thousands of babies and hundreds of mothers deaths at one and the same time. A double standard applies whereby obstetrics conducted unfavourable labor accidents automatically become the subject of criminal investigation whereas doctor conducted hospital negative accidents are first explored by their professional peers and rarely if ever get referred to the police for further criminal investigation.
This unfair and unequalable situation possesses its roots in the fact that prosperous Hungarian governments foundered to constitute to provide complete and appropriate effect to a Hungarian woman's constitutional right to deliver at home (as per the Civil Rights Ombudsman Peter Polts's ruling of January, 1998). From then until May, 2011 legislation absence implied it was unligalized for all certified medical professionals to supply services into home. Parents desiring to deliver at home would have been left with the ineligible choices of doing so alone or going to the hospital, had Dr. Geréb and her uncertified independent maternity nurses not continued to maintain them and attend their home labors.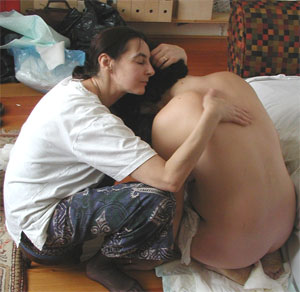 Her "Crime": Agnes Gereb comforts a mother giving birth at home.
Very fast the medical constitution was indignant this move as they saw it as a threat to their power, prestige and income-flow from the lucrative maternity industry. Gradually, they influenced the political authorities to their way of thinking and then the law enforcement agencies escalated scrutiny on parents, independent midwives and Dr. Geréb in particular. In 2006/2007 this led to Dr. Geréb facing criminal charges of professional negligence relating to an adverse birth outcome in 2000 and she was suspended from working as a doctor for three years. Then in October, 2010 she was imprisoned before being transferred to house arrest.
It was together with Anna Ternovszky, a young mother who had already assisted to carry out home birth with Dr. Geréb, that Hungarian home birth parents are their active to defend their constitutional privileges. Anna, being already pregnant with her 2nd child, defended her claim by means of the ECHR that her human privileges were being rejected by not being capable to get medical services in privacy of her own home when laboring. The ECHR left her challenge in their Ternovszky verse Hungary ruling of December, 2010. The current Hungarian Government were now commited to perform and in May 2011 they introduced first-time home birth legislation. Independent maternity nurses or doctors desiring to carry out home birth labors are now capable to seek licences as "service care – givers". Unluckily, the home birth legislation is so narrowly planned that nowadays, only 3 maternity nurses have got this licence and many expectant mothers are considered to be inopportune to labor at home. It's understandable that these regulations will require to be changed via conversations or by further legal challenges.
The new legislation created no effort to address, let alone remove, discriminatory and criminalising processes which independent maternity nurses have always come with investigation of adverse birth incidents. It is still a valid fact that all present and future licensed maternity nurses, who carry out adverse birth occasion, will automatically appaer criminal investigation matter and will most likely search themselves comin across with severe criminal charges in court. In addition to, they will come across with a criminal court whose determinate orders are unsuitable of supplying them with a fair trial. One has only to look at the obstacles and challenges that Dr. Geréb has had to face to see how impermissible it remains for a maternity nurse to get a fair trial:
Maternity nurses are not recorded on the courts current expert list and cannot therefore be called as expert witnesses.
Courts have only used experts who are maternity hospital doctors with no direct experience of home birth.
International home birth experts have been disallowed from providing expert opinion before the courts.
Hospital based experts have been allowed to claim that home birth is dangerous.
Hospital doctors without appropriate obstetrics/gynaecological qualifications allowed status of experts.
Courts refer only to hospital protocols in evaluating Dr. Geréb's birth actions when in fact home birth protocols should have pre-eminence in these cases.
The evidence throughout Dr. Geréb's trial and from everything else before and after it proposes that court type changes are required to give up of counterchecks to a fair trial will, at the very best, be very slow in appearing. Therefore, the most effective way of avoiding an unfair trial is to ensure that independent midwives no longer have to be processed automatically through the criminal code system. In future they must be got treatment reciprocally to hospital doctors respecting to the investigation of adverse birth incidents and have their birth actions assessed by a permanent medical committee of their peers. How long it will take the Hungarian Government to make laws in this direction is hard to say but it surely is less a question of if than when. The trend in nearly all western countries is in this direction and as a member of the E.U., Hungary has obliged to maintain the best modern practices which have application in this area.
For Dr. Geréb these changes cannot be applied in time to provide the grave injustices she already has had to suffer: the professional suspensions, imprisonment, continued severe house arrest, previous unfair trials, pending trial of 6th December with unfair structures and procedures still in place, and still having to come withdelayed February, 2012 threat two year term of imprisonment being finally implemented.
The Movement for Justice for Dr. Geréb and certain other Hungarian maternity nurses will continue its march to find justice for Ágnes and to assist her to advance birthing mothers rights.
MORE INFORMATION:
Birth House Association, Hungary
Birth House is the website of Ágnes's support group, with up-to-date information on her case in English
BBC News : Midwife under house arrest for home births in Hungary
Nick Thorpe, BBC Budapest Correspondent, June 2012
Birthrights – Hard labour in Hungary
Film examining the growing criminalisation of homebirth midwives and underlying issues in Hungary, March 2011
A 21th Century Midwife – Interview film with Ágnes Geréb by Cultural Creatives, English, March 2012
Original language: Szabadon szülni, szabadnak születni
Short excerpt from the speech of Dr. Geréb at the trial of 6th December 2012
English summary of the video, no literal translation:
"I was forbidden from experiencing as obstetrics and gynecology, but I was not forbidden from experiencing as a psychologist or a maternity nurses. Whatever I did belonged to maternity nurses professional integrity. Independent maternity nurses was uncontrolled, but not illegal. Women are required maternity nurses to provide a healthy pregnancy and labor, they are also required that obstetrics and gynecology and maternity nurses cooperate respecting each other. Ob-gyns are practived to cope with problems when something wrong happens during labor. It's the maternity nurse task to look at healthy pregnancy and labor barriers. I would ask a question to myself: Who could possibly seriously think that it's not the mother who wants the best for her child with the most possible responsibility and caution?"
Joint statement released from ICM and FIGO (International Confederation of Midwives & International Federation of Gynecology and Obstetrics) against criminalization of midwifery in the European Union, March 2012
ONE OF THE CASES OF CRIMINAL PROSECUTION AGAINST DR. GERÉB: Birth stories of Eliza's parents
First person birth story of the mother (Joli Száz) and the father (Thierry Fouilleul), video of Eliza, the 2 year-old girl who is likely to have permanent brain damage because of streptococcus infection got at the lobor in May 2010 with Ágnes Geréb. In accordance to the mother words she is perfectly healthy, and actually alive thanks to Dr. Geréb's procedures after the labor.
Click here for a YouTube video of Eliza. Her diagnosis of permanent brain demage was established by the medical specialist without any examination or actually seeing the girl. Criminal charges against Dr. Geréb were founded on this medical diagnosis.
Click here for Eliza's birth story, as told by the mother (Nightmare) and the father (Arrested).
There are further cases against Ágnes Geréb before the court. All the parents are grateful to her and fully supporting, but they are not being listened to. The three mothers involved in the cases were asking in vain for the possibility to share their actual birth stories with the Minister President of Hungary. Their request received no answer whatsoever.